I know I've been quiet on the blog front for the past month or so, but a LOT has been happening on the personal front so I've not had much good dye stuff to talk about.
I have worked on a few projects, I've worked up a new design which has become a fast favourite, I've done another small collaboration with Gemma Patford on some vessels which will be stocked exclusively at Hermon & Hermon later this month, and I've been dreaming up new products for sale. I was also delighted to find that I was accepted into Markit@Fedsquare which is happening on Nov 24.
While this has all been going on I've also found a new house to live in and will be moving in this Thursday!! My husband also got a new job and we've had 2 birthdays and an interstate family visit!! It's been a bit of a crazy whirlwind, to say the least.
However I have had some dye discoveries recently, so I have something to talk about at last.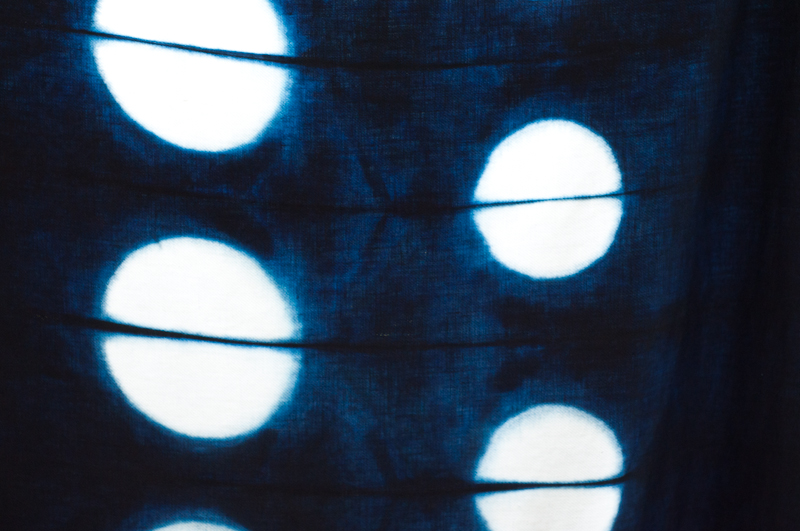 One of my flaws is that I am a bit of a perfectionist. I get very caught up in trying to make my hand dyed work look flawless, like it was manufactured. Specifically lately, my Indigo work. I have been trying and trying to get my deep Indigo areas solid and even on my Itajime pieces.
This is really hard to achieve. It's been killing me, I must admit. While it is something I will no doubt continue to torture myself with I am becoming more accepting when I don't achieve it.
It's taken two people this week telling me that what I make is still beautiful and valued for me to step back and see the good in what I do, and not just the parts where I need to be better.
However, even with my new appreciation of dye flaws, I just had to figure out what was causing them. I know that I was doing everything right in my technique, which left me with some other cause to uneven dye work.
Firstly I thought it was that I hadn't scoured my fabric properly. So I scoured it twice. I've been working with linen as well, which also holds onto its oils in patches sometimes. You can't see it until you dye it, it can be very annoying.  Anyway, I still got patchiness. Not as much as in the past, but a little.
So then I looked at my vat. And i realised that the last time I refreshed my vat was the end of July. So with a new vat  I am seeing markedly improved results!! My blue is bluer and my dye work is even where it is supposed to be.  This is not to say it's perfectly even, but it's uneven in the way it should be, if that makes sense. Not a funny, "there's something going wrong here" way. The difference in the blue though would not be noticeable to an untrained eye, its much more noticeable as you work the vat, and not once work has been washed and dried.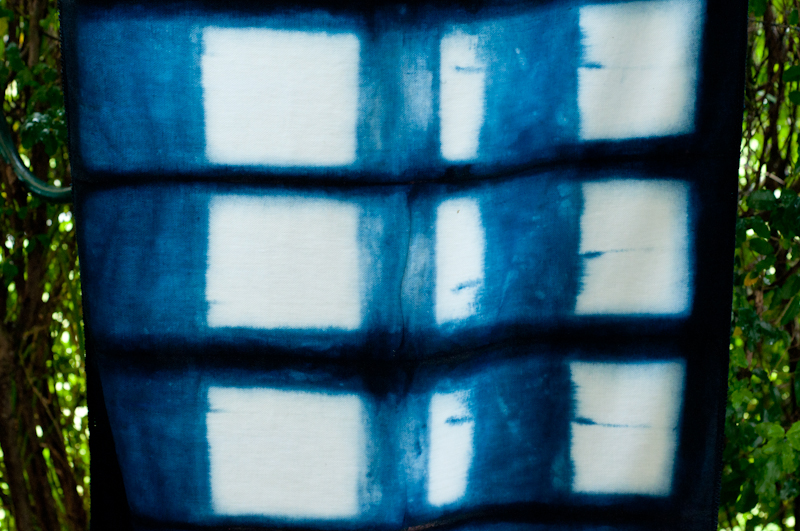 My conclusion on this is that if you run a hydros vat, even if your vat is balanced eventually you will have dumped so much hydros into it that your blue is dulled, and your dye work more likely to be uneven. I think this is probably caused by the hydros re-stripping the indigo as it oxidises, or as it is re-immersed in the vat, because hydros and soda ash when just used in water are in fact a dye stripper. I kind of knew that my vat would reach this breaking point at some stage, but I kept pushing it. At least now I know!